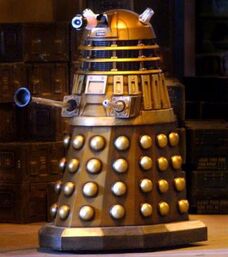 "All hail the New Daleks!" The Gold Dalek, Victory of the Daleks
A Battle of Wits is a feature in Doctor Who Magazine (DWM). The feature started in January 2011 and uses long-running Doctor Who-related debates to occupy the readers. The first debate was in DWM 430 where it was greeted with great applause from the readers. This enthusiasm was revealed in Galaxy Forum on the next issue. Other features for DWM (including a whole new format altogether + a new 84-page layout!) were:
The Time Team: Reviewed Rose in January 2011
WOTCHA!: A page compiled by the Watcher with some of the craziest things in Doctor Who!
Countdown to 50: Reviewing each Series of Doctor Who in turn. DWM 430 reviewed Series 1 (1963-64).
A crossword was also introduced in DWM 430.
The Debaters
Edit
Each issue, the same two people fight out their views on the chosen monthly topic. These two are regular DWM contributors, Johnny Candon and Toby Hadoke. To find the debating page, look in DWM and it is usually just after the Comic Strip.
Debates in A Battle of Wits
Edit
DWM 430: The most influential Doctor as a Time Lord-Tom Baker or Pat Troughton.
DWM 431: Best Dalek design-2005 Time War design or 2010 paradigm (colourful) design
DWM 432: Past or Future-Avoid repeats or take pride in the past
DWM 433: Does it matter if the Doctor is half-human or does it betray the whole point of the show?